Omega J1065S Static Crushing Plant
Product ID: J1065S
The Omega J1065S is a cost effective, high output , all electric drive modular plant designed for Recycling applications as well as quarries and mines.
Fitted with the high-performance Irish-built Omega 1065 Jaw crusher, this unit features a simple toggle tensioning system that allows for easy integration into an existing system or stand-alone application.
With its high output capacity and efficient electric drive, the Omega J1065S is designed to help you get the job done quickly and efficiently. Its modular design allows for easy customisation and configuration, ensuring that you can get the exact crushing plant you need to meet your specific requirements.
One of the standout features of the Omega J1065S is its ability to fit into a container for shipping. This makes it an ideal choice for businesses looking for a portable and flexible crushing solution that can be easily transported to different locations.
At Omega Crushing and Screening, we understand the importance of delivering high-quality crushing and screening solutions that meet the unique needs of our customers. That's why we continue to innovate and develop new products like the Omega J1065S, which is built to deliver exceptional value and performance.
Whether you're working in a recycling facility, a quarry, or a mine, the Omega J1065S is built to handle the job with ease.
KEY FEATURES:
High output capacity
Efficient electric drive
Modular design
Fits in container for shipping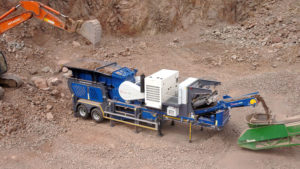 The Omega J1065M is a powerful and reliable crusher  that boasts the field-proven Omega 1065 Jaw crusher as its core component. With dual power options
Read more >