Omega J1065 Jaw Crusher
Product ID: J1065
Engineered to deliver, with high productivity and low operating cost, Omega jaw crushers have been proven working in some of the most demanding hard rock applications.
We use only the highest quality components in our Omega J1065 Jaw Crusher, ensuring that it is built to last and deliver reliable performance. This includes a heavy-duty shaft and premium bearings, as well as a bolted mainframe construction that provides added durability and strength.
With its high capacity and exceptional performance, the Omega J1065 Jaw Crusher is built to handle even the toughest crushing tasks. Whether you're working in a quarry, a mining operation, or any other hard rock application, this machine is designed to help you get the job done quickly and efficiently.
KEY FEATURES:
Heavy duty shaft & premium bearings
Bolted mainframe construction
High capacity & performance
Operator friendly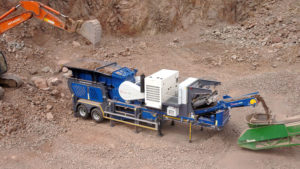 The Omega J1065M is a powerful and reliable crusher  that boasts the field-proven Omega 1065 Jaw crusher as its core component. With dual power options
Read more >