Omega J1065M Wheeled Mobile Crusher
Product ID: J1065M
The Omega J1065M is a powerful and reliable crusher  that boasts the field-proven Omega 1065 Jaw crusher as its core component. With dual power options and an all-electric drive system, this machine is designed to deliver optimal power and efficiency with minimal environmental impact.
Whether you're working in a quarry, a recycling facility, or any other primary crushing application, the Omega J1065M is built to handle the job with ease. Its all-electric drive system delivers efficient and reliable power to the crusher, helping to reduce operating costs and increase productivity.
We understand that user-friendly equipment is essential for businesses looking to streamline their operations and maximise efficiency. That's why the Omega J1065M is designed to be easy to operate, with no complicated PLC systems to worry about. This means that even novice operators can quickly get to grips with the equipment, making it an ideal choice for busy quarry and recycling operations.
The Omega J1065M also features dual power options, allowing you to choose between diesel and electric power depending on your needs. This makes it an ideal choice for working in urban environments where noise and emissions regulations may apply.
What really sets the Omega J1065M apart from other mobile crushers on the market is its exceptional versatility. This machine is built to handle a wide range of applications, from primary crushing to secondary and tertiary crushing, making it a truly all-purpose crusher.
KEY FEATURES:
All electric drive
User friendly no PLC
Quarry or recycling applications
Dual power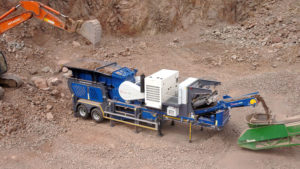 The Omega J1065M is a powerful and reliable crusher  that boasts the field-proven Omega 1065 Jaw crusher as its core component. With dual power options
Read more >