Omega J1065T Tracked Crusher
Product ID: J1065T
The Omega J1065T is designed specifically for quarry, mining, and recycling applications, the Omega J1065T is a powerful and reliable crusher that is built to deliver exceptional performance and efficiency. With its dual power options and all-electric drive system, this tracked jaw crusher is designed to help you get the job done quickly and efficiently.
One of the standout features of the Omega J1065T is its dual power capability. With a DEUTZ power pack, this crusher can be powered by either diesel or electric power, giving you the flexibility to choose the power source that best meets your needs. This feature also makes it easier to comply with local noise and emissions regulations, ensuring that your business can operate safely and sustainably.
What really sets the Omega J1065T apart from other tracked crushers on the market is its ease of operation. This machine is designed to be easy to operate, with no complicated controls or systems to worry about. This means that even novice operators can quickly get to grips with the equipment, making it an ideal choice for busy quarry and mining operations.
With its efficient electric drive system and high output capacity, the Omega J1065T is built to deliver exceptional results every time. Whether you're working in primary or secondary crushing applications, this tracked crusher is designed to help you achieve your crushing goals quickly and efficiently.
At Omega Crushing and Screening, we are committed to delivering the best possible crushing and screening solutions to our customers. We take pride in offering cutting-edge products like the Omega J1065T, which is designed to meet the demands of modern industry and help businesses like yours stay ahead of the curve.
KEY FEAUTRES:
Dual power
Easy to operate
Efficient electric drive
High output capacity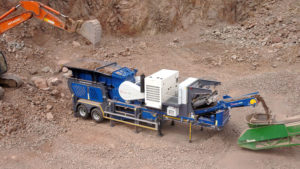 The Omega J1065M is a powerful and reliable crusher  that boasts the field-proven Omega 1065 Jaw crusher as its core component. With dual power options
Read more >